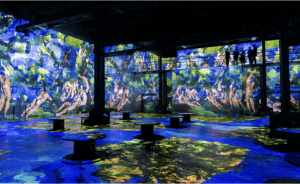 « Cezanne, Lumières de Provence »
Published on 06/05/2022, dans Exhibitions & Museums
Atelier des Lumières invites you to discover the art of the French painter Cezanne through an immersive and symbolic experience. It offers a trip to the heart of the Cezarian nature and the beauty of the French landscapes. All his greatest works are revealed there, mixing passion and uncertainty.
Address : 38 Rue Saint-Maur, 75011 Paris
From February 18, 2022 to January 2, 2023 ; From 10.30 a.m. to 5 p.m.
From 11€
return to posts